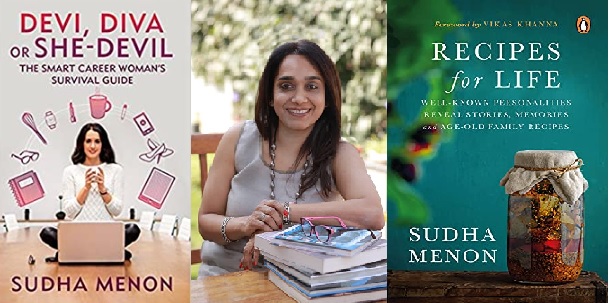 Devi, Diva or She-Devil: The smart career woman's survival guide
This is a beautiful book written by Sudha Menon with inputs from well-known career women.
"Devi, Diva or She-Devil: The smart career woman's survival guide," Tells us what struggles women go through while climbing up the professional ladder.
The experiences of the women in this book are similar to the struggles and tribulations of most women in this world, irrespective of their profession or no profession.
A powerful lesson learned through these experiences is that success is not a one-stop place, but a continuous journey and daily work-in-progress.
If you want to check the price, check HERE
At the end of the post, direct buying links are given for Sudha Menon's Selected books.
Before buying, let's get into a glimpse of each book.
First we will see the Devi, Diva or She-Devil: The smart career woman's survival guide
Details From the Book Cover
Here's an exploration of the complex issues faced by Indian women at the workplace, such as dealing with family pressures, gender perceptions, the glass ceiling, leadership challenges, and bringing up children while also excelling in their careers.
With insights from renowned and successful women like film director Farah Khan, Olympian M. C. Mary Kom, actor Lillette Dubey, corporate head honchos Nisaba Godrej, Aruna Jayanthi, Pankajam Sridevi, Mallika Srinivasan and Devita Saraf, banker Manisha Girotra, food writer Karen Anand, India's first sports journalist Sharda Ugra, public relations and image management maven, Rohini Iyer, and casting director Shanoo Sharma among others, this book will help the contemporary Indian woman negotiate the professional world with panache and follow her career goals with ease.
About the Author Sudha Menon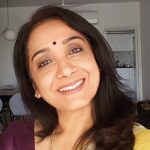 Sudha Menon is an author, a columnist, and a writing coach.
She is the author of three non-fiction books, Leading Ladies: Women Who Inspire India, Legacy: Letters from Eminent Parents to Their Daughters, and Gifted: Inspirational Stories of People with Disabilities.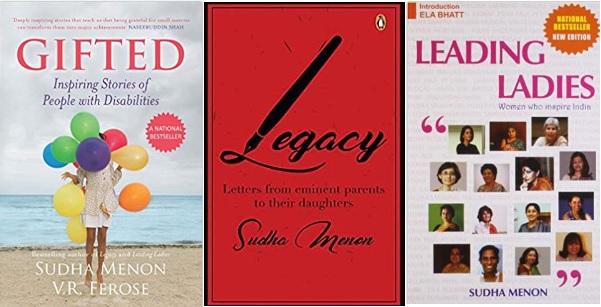 Other Books of Sudha Menon
Feisty at Fifty: How I Stay Fabulous at Fifty-Plus
Sudha Menon has put together a memoir that is relatable and resonates in multiple places.
Both fun and moving, captures the process of ageing beautifully in an Indian context
You don't have to be 50 or over to read this book – the writing flows easily and the topics are so pertinent.
This is a different genre for the author than her previous books and she's done a fabulous job – of keeping the reader glued to the pages.
A riveting book and a must-read for anyone who appreciates age-related candid humor
Feisty at Fifty: How I Stay Fabulous at Fifty-Plus 
Recipes for Life: Well-Known Personalities Reveal Stories, Memories, and Age-old Family Recipes
Check this book HERE
This book takes you to your childhood days and how the food is made with joy,love, and care by your loved ones.
It is the story of the food tradition of the families (the celebrities mentioned in the book) with a little story along with it.
It makes me happy when I am reading because I can relate to it or experienced it at any point in my life.
This is one of my favorite cookbooks which makes my heart bloom while reading.
I have tried some of the recipes too they turned out delicious.
Recommend buying if you are passionate about cooking.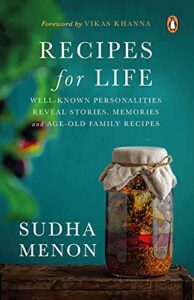 I started reading it in bits and pieces, flipping over to my favorite parts, and was hooked.
In Recipes for Life, Sudha Menon brings together 30 celebrities telling us about their Mother's cooking, along with recipes for their favorite foods.
As we make our way through the homes and kitchens of these stars, they walk right into our hearts.
We find Aai and Ajji, Mamma and Mummy, Ma, Nani, Ba, Mum, Ammi, Manni, Umma, and even an Aandyamichi (nani), all of them turning the chore of cooking into an art, an expression of affection.
Remember how our mothers and grandmothers would spend time in the kitchen, sharing their stories and exchanging recipes from each other's homes without writing them down?
Between chopping, sauteing, grinding, and frying a variety of ingredients, and the aroma of home-cooked food laid out on the dinner table, families forged bonds that withstood the test of time.
Now the connections we made through oral storytelling have disappeared because of the rise of modern-day nuclear families where children see their parents once in a couple of months.
The truth, however, remains that no matter how many countries we travel to and live in, or how many expensive meals we eat at Michelin-star restaurants, the magic of our mothers' cooking never fades away.
In Recipes for Life, Sudha Menon attempts to recreate those memories and the magic of the food we grew up with and cherish. The book is replete with stories, anecdotes, and recipes from the homes of some of India's much-admired and accomplished people.
What stands out in all her stories is that the best childhood memories are about simple food served with joy.
The book is a culinary journey across India – from Kathiawar to Manipur and Kashmir to Kanyakumari, though the author says she had no such design when she wrote it.
Laced with love and glazed with nostalgia that sweetens every bitterness (Like Amish Tripathi being made to eat bitter gourd at every meal for a week because he dared to push away the plate with the offending vegetable), the book is an absolute comfort read.
To call this a 'cookery book' or a book of recipes would be a gross injustice
Legacy: Letters from Eminent Parents to Their Daughters
It's a Good read Book.
In Legacy, Parents share their upbringing and family values with daughters.
A good read for a woman looking for inspiration or men who believe in empowering women.
I absolutely loved reading this book.
I liked how all famous personalities have written letters to their daughters to pass on the values inculcated in them.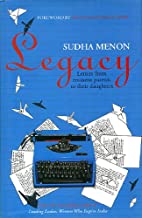 I got so inspired by this book that I thought to ask my parents to write me a letter.
Sometimes our parents don't explicitly say what they want us to follow or remember.
But when you sit to write, you gather all your thoughts together by thinking deeply about what exactly you want your kids to know or follow.
And such letters are the best gift any parent can give to their child.
It was an interesting read. Check out this Book HERE
Take away
In short, all the books mentioned above are good to read, keep books( One you can buy and keep in your personal book collection 🙂 .
Here is the list of books with Buy links
Read other posts